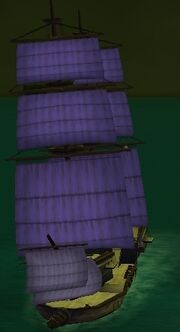 The
White Wolf
is a War Frigate owned by Zeke.
Story Of The White Wolf
The White Wolf was originally a skeleton ship named the Castaway. Zeke took it from Jolly Roger in a boarding and took it to Cuba for repairs. The White Wolf is NOT the only ship Zeke has. He has a Light Sloop named ( i don't remember ) for fast travels. The White Wolf is Zeke's Flagship. It has seen many battle against the French. It will continue to be his flagship until it is destroyed.
Crew
Captain - Zeke Adem Williams
First Mate - Keira Kinover
Taskmaster - Bart Hexdavis
Known Drivers
Zeke Adem Williams
Bart Hexdavis
Ad blocker interference detected!
Wikia is a free-to-use site that makes money from advertising. We have a modified experience for viewers using ad blockers

Wikia is not accessible if you've made further modifications. Remove the custom ad blocker rule(s) and the page will load as expected.