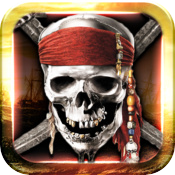 Similar to the very popular RPG style of Zynga's CityVille, Mafia Wars and FarmVille, Disney's Pirates of the Caribbean: Master of the Seas – which follows the theatrical release of The Pirates of the Caribbean: On Stranger Tides – recently made its app store debut.
As with the RPG genre, this app starts the player without much artillery or experience and thus makes it imperative to level up as quickly as possible. The app is setup for players to increase energy, stamina, health, gems and gold by completing quests, exploring the seas for booty or plundering treasure from beleaguered ships. Of course, also like the other free to play games, gamers can purchase gems with real money via in-app purchase.thumb|500px|right
After selecting an island, the screen zooms in and reveals the quests available, which are represented by flags. This is where strategy is essential to gameplay. The player must ensure that they have enough energy, stamina and crew built up if they hope to complete the quest.
In addition to exploring islands and completing quests, the other main feature of the game is dueling with passing ships. The ultimate pirate task is initiated by touching an unsuspecting ship. Once the ship is selected, the player first needs to compare stats. If similar or at least close, then battling should be a favorable outcome. However, if the ship does have better stats it's best to steer clear as valuable stamina will be lost.
The gamer doesn't physically tap buttons to shoot cannons or swing swords. These are virtual quests and are based upon experience points and the amount of weaponry built up versus the opponent. Basically, it's a simulation so don't select a quest if the numbers don't add up. After the quests are completed, the player then goes onto the next and repeats until all are conquered.
As the gamer progresses through the game they collect gems, which is the currency to buy cannons, weapons, amulets as well as is the way to upgrade ships. If the gamer wants to succeed, they must upgrade constantly. Of course, the game won't allow the player to buy more cannons than they have crew to man the station. Here is where it is imperative to be a social gamer as the more friends invited into the crew, the quicker the player can increase levels. It's all about a bigger crew, otherwise, the game will be slow going.
To quote the famous Jack Sparrow himself, "I think we've all arrived at a very special place. Spiritually, ecumenically, grammatically."
From- http://www.148apps.com/reviews/pirates-caribbean-master-seas-review/#ixzz1d2f6gekh
Ad blocker interference detected!
Wikia is a free-to-use site that makes money from advertising. We have a modified experience for viewers using ad blockers

Wikia is not accessible if you've made further modifications. Remove the custom ad blocker rule(s) and the page will load as expected.