John Fatbeard was a crewman in Simon's Swordsilver's. Simon his dad, was part of the Brethren Court and helped the Pirates fightback the EITC. In one of his latest wars, he fell in battle. Captain Leon Leader of the EITC killed him. Simon passed his Piece of Eight to John and said " John... You are now part of the Brethren Court. Take this this Peace of Eight and fight for Pirate king Jack Swordmenace!" John took the the Piece of Eight. Captain John now seeks revenge on Leon and will use all chances to attack him.
Piece of Eight: Black Ostrich Hat
Ship of Simon now owned by John : Lightning Wolf; War frigate
Flag: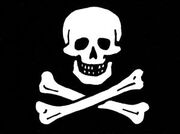 ( Right Corner down)
John always has something on himself -His fathers hat and the Onyx Ear ring.
Capnjohnf. 13:56, October 15, 2010 (UTC) Captain John Fatbeart
THIS IS A LEGEND PART TRUE PART FALSECaptainJohn 12:15, November 28, 2010 (UTC) REAL VERSION ON CAPTIN JOHN FATBEART PAGE!!!!!!!!!!!CaptainJohn 12:15, November 28, 2010 (UTC)
Ad blocker interference detected!
Wikia is a free-to-use site that makes money from advertising. We have a modified experience for viewers using ad blockers

Wikia is not accessible if you've made further modifications. Remove the custom ad blocker rule(s) and the page will load as expected.