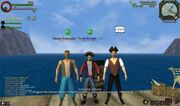 Not much is known except
It was made to protect Duchess of Anemosis
It was a "Branch" of her Army in some battles
It was Led by Commissioner Captain Jim Logan
And it was disbanded due to most of its members were "absorbed" into her private force
In Late October - Early November 1721(2010) the French Secret Service was "reactivated" to help combat Lord Leon
Members
Captain Jim Logan - Leader
Charles Raidmalley
Ben Goldfury
Matthew Daggermeance - HEAD BODYGUARD
Assassin-Trusted bodyguard of Duchess
20 other members
If you want to be a member put your name here and I will approve ye.
Charles Swordeagle
Matthew O'malley John Level 34
Former Members:
Jack Swordmenace: Personal Bodyguard to Duchess, Former Grand Duke of Paris (Appointed), resigned (from both) upon formation of the 5th Brethren Court.......
~ Jack Swordmenace, King of the 5th Brethren Court
Other info
The HQ of the newly revived French Secret Service will be at
L'asile
Ad blocker interference detected!
Wikia is a free-to-use site that makes money from advertising. We have a modified experience for viewers using ad blockers

Wikia is not accessible if you've made further modifications. Remove the custom ad blocker rule(s) and the page will load as expected.