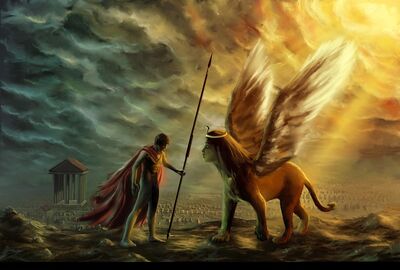 The Sphinx is a level 40 boss that dwells within The Labyrinth. It will only turn to an enemy if you answer it's questions incorrectly.
History
The sphinx was a creature with the body of a lion, wings of an eagle, and head of a woman. It would dwell in passes, and catch travelers. If they could not answer her riddle, she would eat them. It was trapped within The Labyrinth several thousand years ago.
Today
Locations
Stats
Level
40
Type
Sphinx
Health
50,000
Weapon
Claws
Fangs
Knowledge
The Question
English Translation:
"What walks on four legs in the morning, two legs at noon, and three legs at dusk?"
Greek Translation:
"περπατώ επάνω τέσσερα legs το πρωί , δύο legs το μεσημέρι , και τρία legs σε λυκόφως?"
Latin Translation:
Quis ingredior in quattuor legs in oriens , duos crur procul noon , quod tertius crur inter canem et lupum?
Ad blocker interference detected!
Wikia is a free-to-use site that makes money from advertising. We have a modified experience for viewers using ad blockers

Wikia is not accessible if you've made further modifications. Remove the custom ad blocker rule(s) and the page will load as expected.