}}
Slappy appears as two different bosses. One is EITC, and the other one is a Ghost.
Ghost
A level 99 boss in the cave of lost souls on the walkway near Foulberto. He has 2 Rage Ghost guards, and 300,000 health. After every attack, he only gains health. To defeat him, you must use silver freeze or cursed ice then have an army of blunderbusses.
EITC
A level 50 boss in Kingshead Barracks. He has 2 Assassin guards, and 70,000 health. He has no cheating abilities like his ghost form.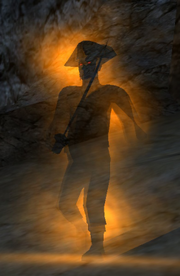 Ad blocker interference detected!
Wikia is a free-to-use site that makes money from advertising. We have a modified experience for viewers using ad blockers

Wikia is not accessible if you've made further modifications. Remove the custom ad blocker rule(s) and the page will load as expected.