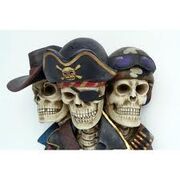 Slappy has quit POTCO. So he is presumed dead, killed by Jack Swordmenace in a sword duel. Slappy's Crew died as well.
Remains
He and his crew are buried in the Hinterlands Graveyard (Distant island filled with graves).
His memorial service will take place on November 13, 1721(2010)
(on Matthew Darkskull's birthday)
Comments
Um Slappy r u really dead?
Yes, i have quit potco so yes i am dead.
werent you like.. already dead??? in undead form???
I am permanently dead. Quit Potco forever.
Someone put memorial. THat makes no sense. Everyone hates me, why would i have a memorial?
Why does everyone hate u?
Because, people just don't like the way i do things. And well, i've messed up a bit.
WHAT DID U DO THAT WAS SO BAD?
Well, a number of things i guess.
? well ok.
Anyway i cant get online till about 8:30 p.m.(CTS) cause i gtg to to Dentist
Ad blocker interference detected!
Wikia is a free-to-use site that makes money from advertising. We have a modified experience for viewers using ad blockers

Wikia is not accessible if you've made further modifications. Remove the custom ad blocker rule(s) and the page will load as expected.