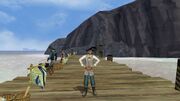 Did you mean Simon Treasurehawk, owned by user Spaniaimon Treasurehawk|Simon Treasurehawk]]?
Simon Treasurehawk is a cousin of Francis Pillagefoote O'Smith. He was raised in a wealthy and privileged family. As a child, he knew what his lifelong dream was, to be a pirate. He went on the adventure to defeat the Navy, E.I.T.C., and Jolly Roger and his skeleton army. He want on to fight one on one, right to left, and defeated every one. He is a legendary pirate. Jack Sparrow presented him the honor, and he is very proud of himself.
Current level
Level 37
Cousins/ Family/ Birth place/ Other Statistics
1. Francis Pillagefoote 'o Smith
2. Mr. Lucky
3. ?????
Family: Treasurehawks
Dad: John Treasurehawk
Mom: Emily Treasurehawk
Birth place: Port Royal
Height: 6'4
Guild
Simon made his own guild currently, but he use to be in Spania. Not much is known why he quit, for it was mostly without reason. His current guild that he made is called "The Liberate Blade." Simon hopes for his guild to prosper and flourish throughout the Caribbean like Spania did.
Current Quest
Raven's Cove Story Quest, and The Black Pearl Story Quest.
Hope to see you in the Caribbean!
Ad blocker interference detected!
Wikia is a free-to-use site that makes money from advertising. We have a modified experience for viewers using ad blockers

Wikia is not accessible if you've made further modifications. Remove the custom ad blocker rule(s) and the page will load as expected.