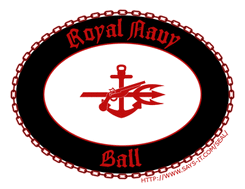 The Royal Navy Ball is a formal ball sponsored by the Royal Navy. Almost anyone may come, but misbehave, and the jail cells are awaiting. This event is opened to the general public, but is quite expensive to attend. The attendance takes a hefty 500 gold, to make sure no beggars show up. Pirates are invited Pirates are no longer invited (without invite), due to the outcome of the last ball. At the ball, we will offer:
Entertainment: sword duels, ship duels, navy cannons, and swiftfoot contests
Food: Lobster, Crab, Escargots, and more
A Mingling Place: Hang out with your friends!
Information
Held at *LOCATION NOT CHOSEN*
Guards on the inside of the gates
The ball will start at the beginning of sunset, and go until sunrise. Guests may come and go as they please
Admission cost is 500 gold, but you don't have to pay
Guards consist of Navy and Black Guard personel, as well as hired-arms.
Current Ball
The current ball information:
The next ball has not been chosen
Honored Guest List
If you are upon this list, your official invitation will arrive soon, or has already arrived.
New Honored Guests
If you have any suggestions, please submit them on this page's talk page (to be made with link)
Bests of the Night
Each ball, we'd like to contribute a special thanks to certain guilds and people for making each ball possible.
Guest of the Night
NOT YET CHOSEN
Guild of the Night
NOT YET CHOSEN
List of Known People Coming
Not Welcome
These are the list of people not welcome:
Captain Leon—Due to certain actions, Captain Leon is not welcomed in upcoming balls.
News
RNB pricing changed:

Must pay 100 gold
Present 500 gold, but do not pay

Invitations Sent
Not Welcomed List added:

Matthew O'malley
Pearson Wright
Captain Leon

Poll Placed: Remove Matthew O'malley from Unwelcomed list?
Negotiations reached: Matthew O'malley weclomed.
Skull's Marines agree to security detail
Best of the Nights added
1st Ball takes place 3/26/11
Raiders attack 1st Ball
Ad blocker interference detected!
Wikia is a free-to-use site that makes money from advertising. We have a modified experience for viewers using ad blockers

Wikia is not accessible if you've made further modifications. Remove the custom ad blocker rule(s) and the page will load as expected.