Rolsalie!!!!
Rolsalie is the first pirate I made on POTCO, she is level 50. All of her land weapons are mastered, except for grenades. Cannon and Sailing are also mastered.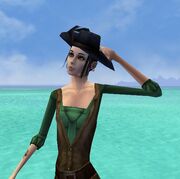 | | |
| --- | --- |
| | Rolsalie and Rozy F Baby has reached Notoriety level 50 and joined the No Groggy Club! |
She is currently the Guildmaster of The Return of Bam, which is a second of the first guild I made, Bam! which got deleted about 2 years ago.
Rozy F Baby
Rozy F Baby is a level 50 pirate.... Eh... She is quite the fail of a Mastered Pirate if I must say so myself...
Cannon is level 16, Sailing is level 22. All land weapons but grenades and staff are mastered, grenades and staff are level 20. Potions are mastered, and fishing is quite a fail, level 4.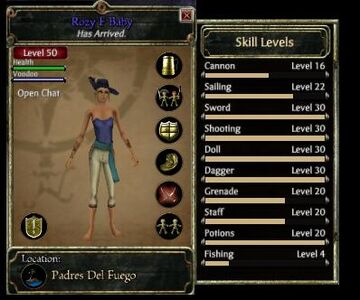 On either of my pirates I'm usually on quiet servers by myself or with one or two friends. I don't deal with the whole, spanish, french, eitc, navy thing.. I'm just a pirate.
I would try to list the guilds I've been in, but I'm a bit of a jumper...
The guilds I remember mostly are:
-Spartans Savvy
-Mischevious Pirates
-Hearts of Ten
-Bam!
-The Return of Bam!
-I'm Cool Like That
-Is MInty Fresh!
-Twisted Demons
-Has Arrived
-Currently: Thirsty Souls
My Famed Weapons So Far...
Ad blocker interference detected!
Wikia is a free-to-use site that makes money from advertising. We have a modified experience for viewers using ad blockers

Wikia is not accessible if you've made further modifications. Remove the custom ad blocker rule(s) and the page will load as expected.