}}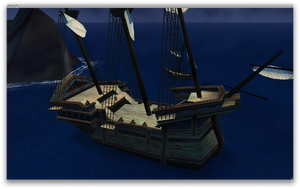 The Riptide Mercenary, also a Sloop (Riptide Mercenary), is a Galleon in service of Matthew Fireskull.
****Ship was sold****
Galleon- A galleon was a large, multi-decked sailing ship used primarily by European states from the 16th to 18th centuries. Whether used for war or commerce, they were generally armed with the demi-culverin type of cannon. Definition from: Wikipeda
Riptide Mercenary

Armor

7,200

Sails:

1,400

Cannons

8

Broadsides

18

Cargo

14

Crew

8

Cost

3,500 coins
Ad blocker interference detected!
Wikia is a free-to-use site that makes money from advertising. We have a modified experience for viewers using ad blockers

Wikia is not accessible if you've made further modifications. Remove the custom ad blocker rule(s) and the page will load as expected.