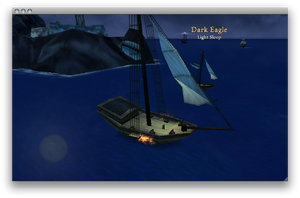 The Riptide Mercenary is a Sloop owned by Matthew Fireskull.
Sloop: A sloop (from Dutch sloep) is a sail boat with a fore-and-aft rig and a single mast farther forward than the mast of a cutter. A sloop's fore-triangle is smaller than a cutter's, and unlike a cutter, a sloop usually bends only one headsail, though this distinction is not definitive; some sloops such as the Friendship Sloop have more than one. Ultimately the position of the mast is the most important factor in determining whether a ship is classified as a sloop. -Wikipedia
Ad blocker interference detected!
Wikia is a free-to-use site that makes money from advertising. We have a modified experience for viewers using ad blockers

Wikia is not accessible if you've made further modifications. Remove the custom ad blocker rule(s) and the page will load as expected.