Morocco is a out-dated article. No further edits on this page are needed, unless they are spelling mistakes. As this page acts as a Historical Document and is not intended to start any arguments or hurt feelings.
Morocco
is a country located in North Africa
The two main languages spoken here are Arabic and Berber. Its Capitol is Rabat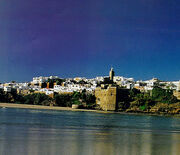 Morocco is also a target of Barbary Pirates and was raided by them many times.
Ad blocker interference detected!
Wikia is a free-to-use site that makes money from advertising. We have a modified experience for viewers using ad blockers

Wikia is not accessible if you've made further modifications. Remove the custom ad blocker rule(s) and the page will load as expected.