Midnight Eagle
is
Jack Daggermenace
's massive War Frigate. Jack uses this for looting at sea. It has a lot of history. The ship was brought back from the EITC outpost when Jack escaped from it. It is now famous. One: Because Jack owns it. Two: It was transformed from EITC to pirate ship. The ship is now worth much more then 60,000 gold because of its historical meaning. Now, this is the most commonly known ship Shadow uses. He also sometimes sleeps on the ship. It has a very spacious cabin and captain's quarters. He only invites his closest friends on this boat. It is very special to him, he had is customized to fit his exact needs and no one else's. The ship is mainly based on luxury... it even has a king sized bed in the cabin.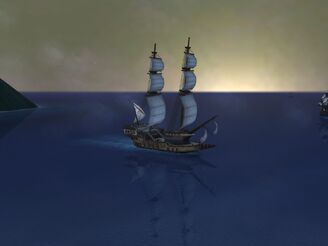 Ad blocker interference detected!
Wikia is a free-to-use site that makes money from advertising. We have a modified experience for viewers using ad blockers

Wikia is not accessible if you've made further modifications. Remove the custom ad blocker rule(s) and the page will load as expected.