}}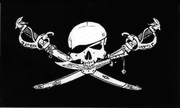 Ironflints Brigade
Mark Decided to make his own Guild, Ironflints Brigade a Small Anti EITC guild Here are the Ranks:
Overall Ranks:
Rank 1, Members, Players without Membership lvl 14+
Rank 2, Vetrans, Players With Membership lvl 14 to lvl 30
Rank 3, Officers, Players with Membership lvl 30+
Land Ranks:
( Same as overall ranks)
Sea Ranks:
Rank 1, Plain Sash, Players with Cannon Skill lvl 15 or under
Rank 2, Navy Blue Sash, Players with Cannon Skill lvl 16+
Rank 3, Red Sash, Players with Cannon Skill lvl 16 + AND Sailing Skill lvl 15+
( Players with Red Sash Normally Drive the ship and the others shoot Cannons)
Invite Code EBMX3999
( Note That Ironflints Brigade Has Been Destroyed When Mark Left And Joined Back Into Nates Guild )
Ad blocker interference detected!
Wikia is a free-to-use site that makes money from advertising. We have a modified experience for viewers using ad blockers

Wikia is not accessible if you've made further modifications. Remove the custom ad blocker rule(s) and the page will load as expected.