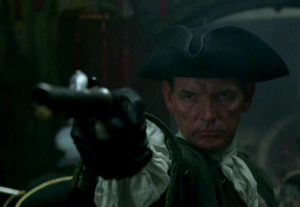 Today, Mercer is a Highly Dangerous enemy guarding Lord Cutler Beckett in his office on Kingshead. He is also, but rarely seen on
Fort Righteous
. He is a very powerful Assassin Boss.
Rank
Assassin
Type
Boss
Health
950,700
Level
48-53
Skills
Dagger: Main Combos, Daggerstorm, Stab
Throwing Knife: Main Combos, Silver Freeze, Dark Burn
Repeater: Electric Shot, Burning Shot, Frozen Shot
Weapons
Throwing Knives
Daggers
Repeaters
Clothing
Black Rough Tricourne
Buttoned Assassin Coat
White Ascot
Assassin's Belt
Black Pants
Black Boots
Drops
Silver Freeze (formerly Mercer's Blades)
Lost Sword of El Patron
Famed Throwing Knives
Famed Daggers
Famed Pistols/Repeaters
Cursed Blades
Ad blocker interference detected!
Wikia is a free-to-use site that makes money from advertising. We have a modified experience for viewers using ad blockers

Wikia is not accessible if you've made further modifications. Remove the custom ad blocker rule(s) and the page will load as expected.