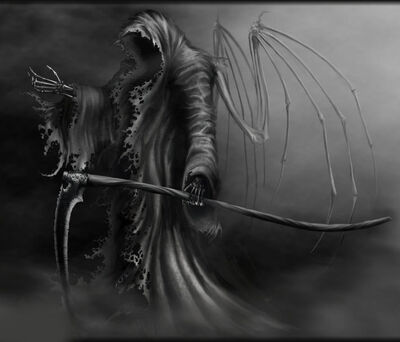 The
Grim Reaper
is an
Undead Reaper
boss, that was brought up from Hell to work for
Jolly Roger
. Grim Reaper brought up undead enemies though, and Jolly Roger didn't like that he was doing this. He banished him to Tormenta. He left the island on the
Diablo
. He's the summoneer of the ship. In other words he brought undead souls to work on the ship. He is a powerful boss. He's lv 59 to be close to lv 60.
Loot
He only drops his most powerful ability if you can defeat him, the power to bring back the dead. Needless to say, nobody has defeated him.
Locations Seen...
He is only on the Diablo ghost ship, looking for undead souls to take to the other side.
Other Info
| | |
| --- | --- |
| | Grim Reaper is a(n)/the Summoneer of the Undead of the SS Diablo! |

Ad blocker interference detected!
Wikia is a free-to-use site that makes money from advertising. We have a modified experience for viewers using ad blockers

Wikia is not accessible if you've made further modifications. Remove the custom ad blocker rule(s) and the page will load as expected.