This page contains Info that is not in any way directly associated with Pirates of the Caribbean. It was created for humor and enjoyment among the users of this Wiki.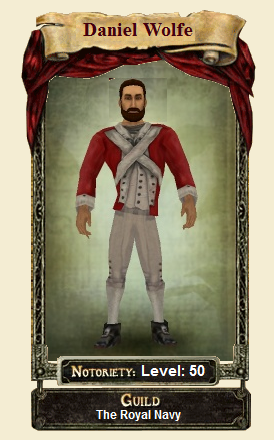 Daniel Wolfe, or General Wolfe, is a Game Master in
The Royal Navy
guild. He only holds loyalty to the Royal Navy. He is dressed as a Royal Navy soldier, due to being in charge of
Fort Desert Strider
. He is also an NPC found in Gibraltar,
Fort Desert Strider
, Oran, Fort Charles, Kingshead, Fort Dundee, and
Fort Righteous
.
History
Daniel Wolfe was born to a family of nobles in England. He joined the Navy at a young age, and became loved quickly. He led an assault on Egypt, which ended in giving him his star pupil, Paapa.
He moved around Egypt with his pupil for many years, before finally settling in Fort Desert Strider.
Information
Ships
Black Cobra—War Frigate
Guild
Affiliation
Royal Navy
African
Stats
Notoriety—50
Sword—30
Gun—28
Doll—25
Dagger—30
Grenade—27
Staff—21
Potions—20
Fishing—20
Ad blocker interference detected!
Wikia is a free-to-use site that makes money from advertising. We have a modified experience for viewers using ad blockers

Wikia is not accessible if you've made further modifications. Remove the custom ad blocker rule(s) and the page will load as expected.