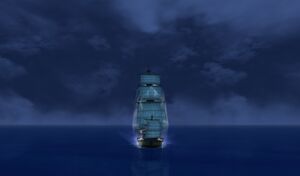 Operation: Flooded Port
By the name, it is obvious that the point of this article is to bring together as many pirates as possible who possess a warship, and have them launch it on the same server in the same place! So we can all take screenshots, and enjoy this great effort of teamwork.
Where: Meet at the main docks on Padres Del Fuego.
Time: December 20, 21, and 22, 2010.

Specific time will be posted soon.
Server: Bonaa
Hosts
If you would like to be a host, please enter your name in the below bullet points, but you may not replace any of the hosts with bold letters or you will be removed from the event. If you'd like to be a host, you must have access to your own warship.
*Jeremiah Stormwash (Main Host) *
Participants
If you decide to only be a participant, find Jeremiah Stormwash and ask him for a crew, he will be standing right beside Captain Ezekiel Rott. He will get you a place in a crew and have you stand by for further instruction from your crewleader, who will receive instructions from Jeremiah Stormwash . Please if you are a participant, just like hosts, you must have access to your own warship.
Rules - Please Read Carefully
Any failure to keep these rules will result in disbanding from the event.
Follow directions of crewleaders.
Wait for Jeremiah Stromwash to get you a crew, his crew might be full, so he will ask another crewleader to teleport.
If you have a normal class or light ship, you will be removed from this event!
No rude behavior.
No rude language in crew or local chat.
No rude behavior in crew or local chat.
Instructions
Find Jeremiah Stormwash
Ask him for crew.
Wait to be asked for a crew, Jeremiah will indicate to accept the invitation.
Wait for further instruction of crewleaders.
Ad blocker interference detected!
Wikia is a free-to-use site that makes money from advertising. We have a modified experience for viewers using ad blockers

Wikia is not accessible if you've made further modifications. Remove the custom ad blocker rule(s) and the page will load as expected.