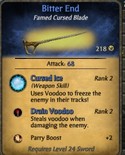 Bitter Ends
is a Guild founded by George Treasurestealer. The guild was named after the "Bitter End" sword. The Guild was founded on 10-10-10.
Command
1st- George Treasurestealer
2nd-Barthomelow Sharkbones
3rd-Bart Gunshot
4th-Admiral Adam Mc. Johnson
Motto
Bitter end's Here!
Alliances
United empire
The Ranger Family
News
Pearson Wright And George Treasurestealer Declare war on captain leon!
Ad blocker interference detected!
Wikia is a free-to-use site that makes money from advertising. We have a modified experience for viewers using ad blockers

Wikia is not accessible if you've made further modifications. Remove the custom ad blocker rule(s) and the page will load as expected.