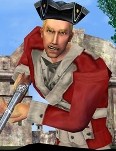 Admiral Edward Sharktooth
is an extremely expereienced navy boss that captains the HMS Empire. He is also a member of
His Majesty's Fleet
. He can also be seen in
Quest: Royal Navy Hiring
.
Admiral Edward Sharktooth's Information
Locations
Kingshead
HMS Empire
Type
Officer Boss
Weapons
Musket
Bayonet
Cutlass
Level
45-52
Health
8,000-12,000
Loot Drops
Corsairs Cutlass
Shark Sticker Bayonet
Scoundrel's Musket
Ad blocker interference detected!
Wikia is a free-to-use site that makes money from advertising. We have a modified experience for viewers using ad blockers

Wikia is not accessible if you've made further modifications. Remove the custom ad blocker rule(s) and the page will load as expected.